Construction of Miri Astronomical Centre (Pusat Falak Miri), Sarawak's very first Islamic astronomical centre was approved by the Sarawak Government 2015.
It has since been completed in July 2021, while the site presentation ceremony by the State Public Works Department (JKR) took place the following month.
Located at Luak Esplanade, Miri, the centre features facilities such as an observation room, dressing room, meeting room, pantry, surau and mihrab room.
During the centre's official launch on 24 September 2021, Chief Minister YAB Datuk Patinggi (Dr) Abang Haji Abdul Rahman Zohari bin Tun Datuk Abang Haji Openg expressed his belief that while it is designed as a place to observe or sight the crescent moon nearing the months of Ramadan and Syawal, as well as Hari Raya Aidiladha, the centre can be a suitable avenue to intensify research in astronomy in Sarawak.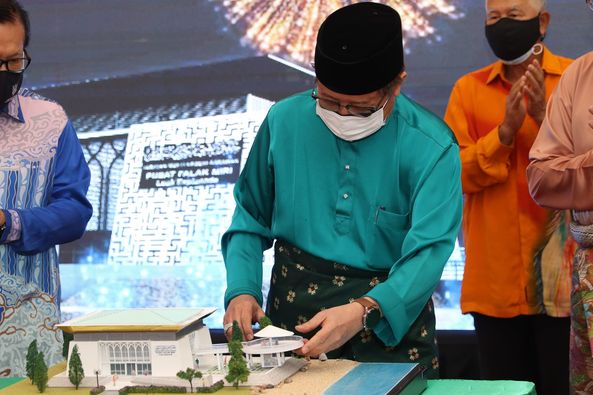 "This is related with information technology – technological knowledge that is said to be digital.
"Digital knowledge is a signal sent within a space that is based on algorithm, which is the knowledge originated by a Muslim," he added. The concept of algorithms was developed by Persian mathematician and scientist Muhammad al-Khwarizmi.
The Chief Minister also hoped that students from all educational stages, from schools to tertiary institutions, take the opportunity to learn about astronomy at Miri Astronomical Centre.
Among those present at the launch included Minister of Transport YB Datuk Lee Kim Shin, Deputy State Secretary (Socio-economic Transformation) YBhg Dato Sri Haji Mohamad Abu Bakar bin Marzuki and Miri Division Resident Tuan Abdul Aziz Mohd Yusuf.