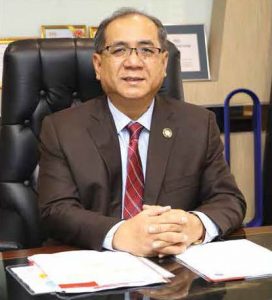 The Civil Service delivers the services that people rely on daily to get ahead in life.
The Civil Service goes beyond the provision of basic administrative services that citizens need such as official registration of births and deaths, sanitation services, securing peace and order, providing health services and welfare assistance. The Civil Service is also instrumental in unlocking the economic potential of the people by helping them improve their skills and facilitating their access to employment and business opportunities.
And, strengthening the effective and equitable delivery of services is one of the most direct ways to promote economic growth and reduce poverty in any nation.
In our aspiration to become a world class civil service, we will be judged in our performance towards this vision by how extensive quality service delivery is made available to the people, regardless of where they are. Our performance is determined to a large extent by the spatial distribution of facilities and resources that provide the much-needed services to the people. If a person has to go to one particular place and expend time, energy and a certain amount of money in order to obtain a quality service from the civil service, then we are liable to exclude those people residing outside the boundaries of where central government agencies and offices operate.
We are most certainly proud of our Urban Transformation Centre (UTCs or one-stop service centres), an innovative way of service delivery comparable to those of more developed nations than Sarawak. In these centres, which we currently have in Kuching, Miri and Sibu, the people have the convenience to access the services of more than 45 government agencies in one counter. The need to move from one counter to another, much less one office to another, has vanished. Those who can come to these UTCs are indeed fortunate and will leave satisfied with getting the services they needed from just one counter.
This kind of convenience to obtain the services we provide must not be limited to urban centres. Our customers in the rural areas must also have the same kind of privilege if we are to be a world class civil service. Speed, convenience, comfort and reliability must be a common experience among the people that we serve, be they in urban and rural areas. This is what I call "equitable service delivery."
The efficiency and effectiveness of our services will not muster the standard of a world class service unless and until we have met that important criterion of equitability in delivering our services.
Equitability is about ensuring that every individual has a reasonable fair access to services that will make their lives easier and to more opportunities that will make the most of their talents. We must ascribe to the belief that everyone in our nation who aspires to improve their lot in life must have not be limited by the circumstance of their birth or of their specific location or because of what they believe in, or whether they have a disability.
When we do our tasks of formulating policies, we must ensure that these policies do not just make it easier for us to implement or carry out our tasks. More importantly, we must make sure that these policies are designed to make it easier for the people that we serve to access the services, resources and opportunities that our government makes available for them to improve their lives.
Equitability in service delivery is not about providing the same service to all, nor is it about treating all people in the same way. It is about adapting the service to meet the diverse needs of different groups of people. There is no 'standard' service user with 'standard' needs. This is about looking beyond the traditional service lens.
We must go beyond what we currently provide to include different interventions to improve quality of life, make work rewarding, build community capacity and promote a fair economy. We will need to care less about providing the same service to everyone, and more about asking what we can do to support and be relevant to people's lives at different stages.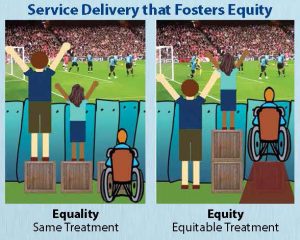 As we, in the Civil Service, strive to provide services fairly and equitably, the emphasis in our service delivery should be to be able to design service delivery systems that are sensitive to the needs of the diverse population that we serve. This means that we take concerted actions to identify groups within the community who have specific or special needs and factor those in as we design systems and procedures for our services. And when it comes to receiving feedback, suggestions, complaints or criticisms, we must deal with these in a fair, sensitive and consistent manner, promoting a climate where they feel comfortable in suggesting about unfairness, exclusion or discrimination without fear of victimisation or recrimination.
The Sarawak government, led by our Chief Minister, YAB Datuk Patinggi (Dr) Abang Haji Abdul Rahman Zohari Bin Tun Datuk Abang Haji Openg has explicitly stated the aspiration to have an inclusive society in Sarawak. And as the machinery that will formulate policies and execute the programs that will make this a reality, we must ensure that considerations of fairness and equitability is a mainstream issue that is addressed in all our deliberations and decisions on how best we can enhance our service delivery.
Equitability matters more than ever, and our Sarawak Civil Service is a vital part of ensuring that it becomes a reality in our society.