In May 2019, a group of 16 students from the BA (Hons) Design Communication programme of Sunway University, Kuala Lumpur went on a trip to Kuching, Sarawak, around the same time the Sarawak Harvest and Folklore Festival was taking place.
Comprising West Malaysia and international students and led by two lecturers, the visit came with three objectives:
To learn and experience first-hand Sarawak ethnic cultures, arts and crafts, architecture, history, heritage, tradition, folklores and food;
To witness and observe the various ethnic groups, traditional cultural arts and crafts through demonstrations and workshops; and
To be able to analyse the various arts, designs and crafts as well as places visited in Sarawak, and then apply the knowledge gained into their assignment and project.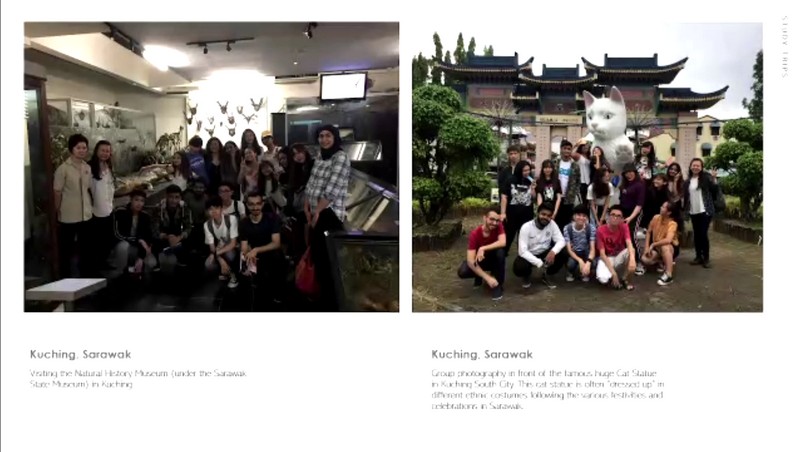 Throughout their travel to Sarawak's capital city, the group had the opportunity to visit museums and tourist spots such as the famous cat statue at Padungan Roundabout.
The highlight of the trip was at Sarawak Cultural Village in Santubong, where the students attended various demonstrations and workshops such as pua kumbu weaving, beadwork, bamboo carving, traditional hand-tapped tattoo, and even traditional ayam pansuh cooking.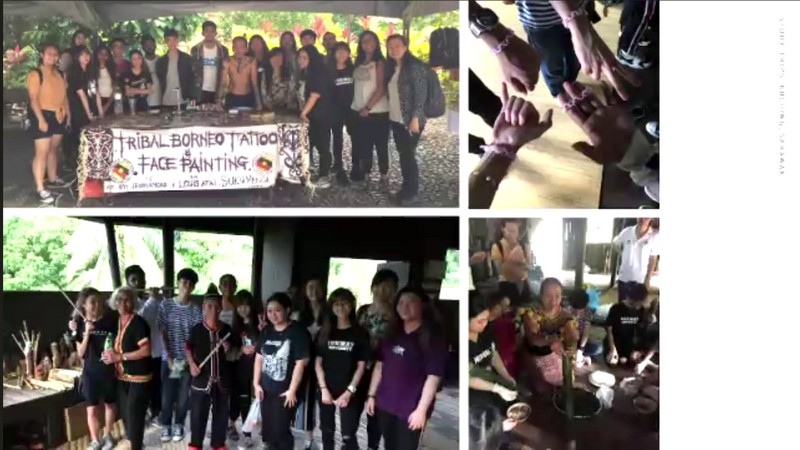 "The students were able to immerse themselves in the Sarawakian environment. They saw and experienced for themselves, as well as gained a deeper understanding and appreciation of the Sarawak culture.
"They understand and they were able to enjoy the people, food, clothing, tradition and heritage through on-site observation. Students were also able to have a casual interaction and conversation with the local people, especially the indigenous ethnic Dayak community at the Sarawak Cultural Village," recounted one of the lecturers, Bibi Zafirah Hanfa Badil Zaman.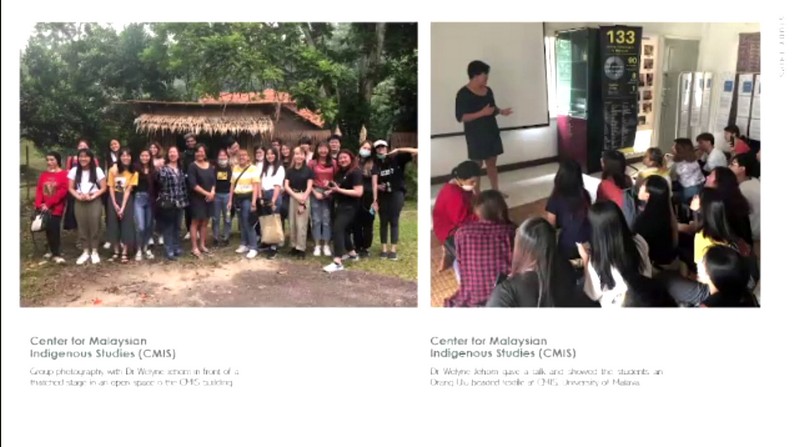 An Alternative to Teaching and Learning Art and Design
Study trips or field excursions such as the above are examples of how local cultural heritage like those found in Sarawak can be preserved and conserved through education.
In the case of the aforementioned bachelor's degree programme, by integrating elements and contexts of native cultures in the teaching and learning of art and design, students are encouraged to gain the needed exposure to have an in-depth understanding of the culture of a particular state in Malaysia, and translate the interpretation of their findings into their design works.
In their presentation during the 2nd International K@Borneo Conference in 2021, Pn Bibi and her colleague Dr. Fiona Wong E Chiong – both from Sunway University's School of Arts and the lecturers who led the study trip to Kuching – believed that this "alternative" approach to teaching and learning can stimulate and drive greater interest and knowledge on cultures of Sarawak first, and afterwards Sabah and other parts of Malaysia.
"Cultural heritage comprises physical artefacts and intangible attributes of a people or society passed down through generations.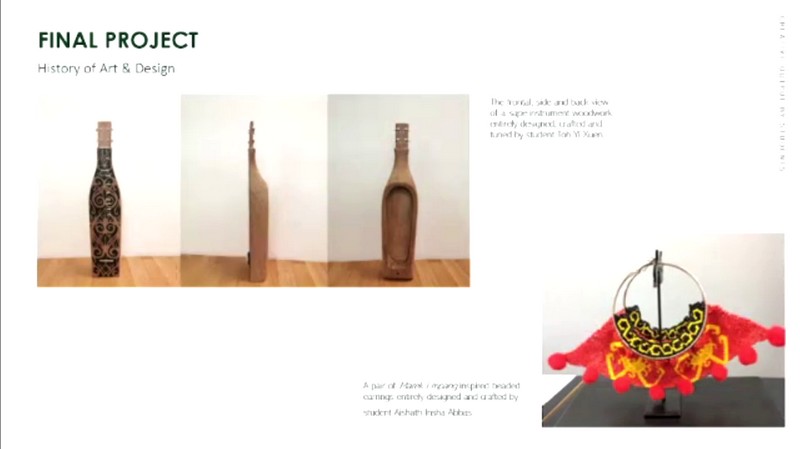 "Cultural heritage provides an individual or a community a sense of belonging and connects the generations through stories and past histories of the people. The rich cultural heritage of Sarawak forms the basis of this (presentation)," they said.
Even if a visit to Kuching is not feasible, one can still discover Sarawak's cultural heritage outside the State.
Some time during the August-December 2019 academic semester, students visited the Centre for Malaysian Indigenous Studies (CMIS), located on the out-skirt of Universiti Malaya (UM) campus in Kuala Lumpur.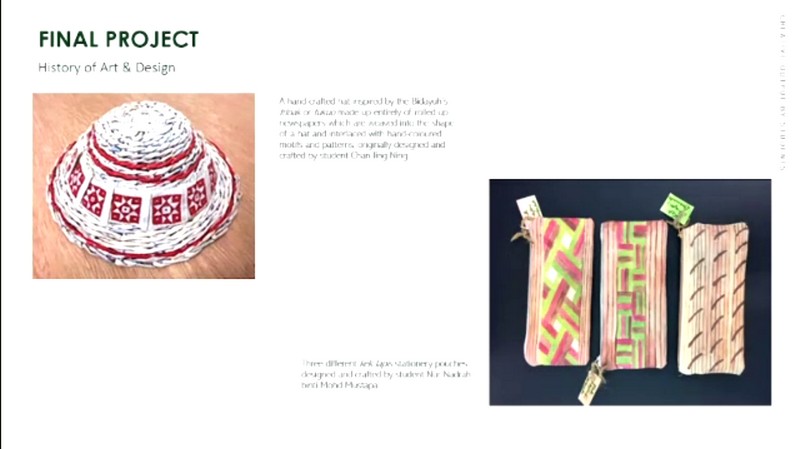 CMIS is a research centre under UM that is dedicated to coordinating studies by various multi-disciplinary researchers and supporting activism on issues related to Malaysia's indigenous people.
During the study trip there, students were introduced to various native arts and crafts of Sarawak by anthropologist Dr. Welyne Jeffrey Jehom, including textiles especially pua kumbu, beadwork, carvings and woven products like bags, baskets and hats.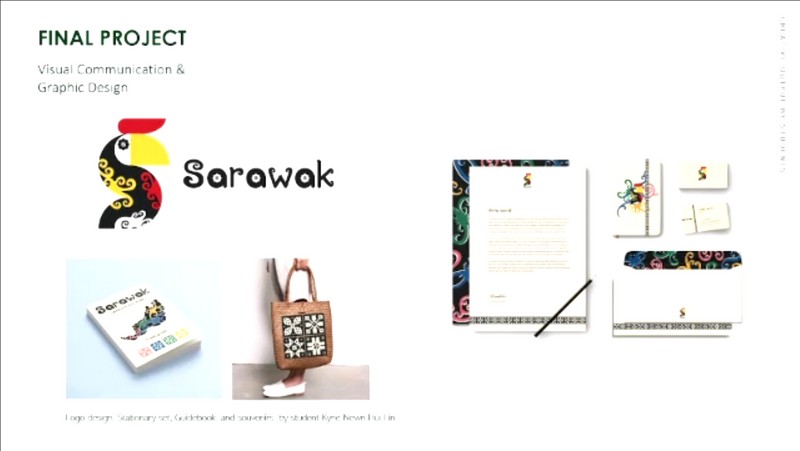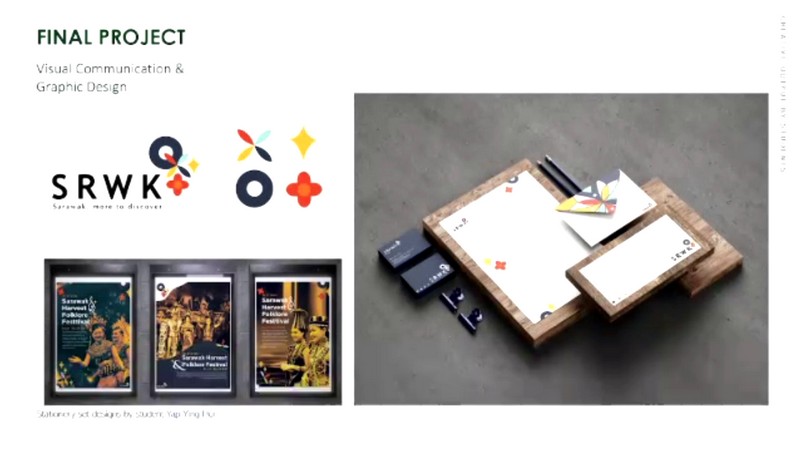 Another avenue for students to explore Sarawak culture is through Pasar Borneo, found on a short stretch of a street with two aligned rows of stalls facing each other in Seri Kembangan, Selangor.
Led by Pasar Budaya Borneo, it opens from 7.00am to 11.00am every Saturday, and consists of mainly Sarawakian and Sabahan vendors selling a variety of native goods, fruits and crafts that are either produced locally or imported from East Malaysia.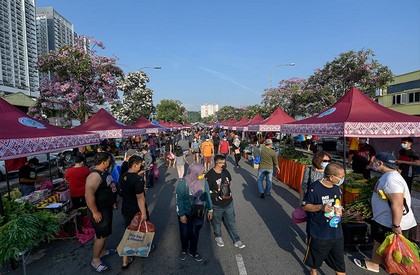 Among the Sarawakian products on sale include kek lapis, printed textiles, cooking ingredients, fruits and vegetables, rattan or bamboo fish traps, and woven bags with intricate motifs native to Sarawak.
Essentially, through the use of various approaches in gathering information, students are expected to apply their understanding of the inspirations, findings and exploration they have obtained about Sarawak's cultural heritage first-hand into their assignments or projects.
"Once all the data had been collected and analyse, students begin to interpret the meaning of each information and relate it back to a form that the intended audience are able to understand and appreciate.
"To attract and intrigue target audience, visual elements from the main source will be simplified or modernised, but it will still carry the essence of the intended message," explained Dr. Wong and Pn Bibi.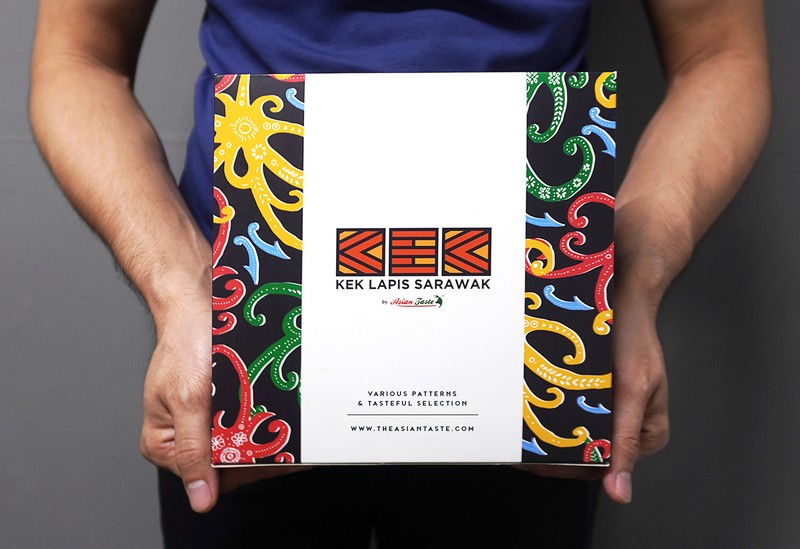 When done effectively, students are then able to communicate their interpretations through their design works, demonstrating not only their comprehension of the contexts, meaning and representation, but also their creativity and innovation in making use of numerous sustainable materials, techniques and processes.
Ultimately, such teaching and learning approach has the immense potential of educating the present and future generations, simultaneously preserving and conserving the local cultural heritage of a region in guaranteeing its continuity and relevance.
Of History, Visual Communication and Graphic Design
Under the BA (Hons) Design Communication programme of Sunway University, the integration of Sarawak cultural context in the teaching and learning of art and design can be found specifically in two subjects:
History of Art & Design
A Year One subject that serves as a fundamental building block and knowledge foundation base by drawing references of Western art and design history, as well as Asian and Southeast Asian history, including Malaysia's.
In meeting the subject's learning outcomes, students are expected to develop an inquisitive and initiated approach in their learning by investigating textual analysis and acquiring an understanding of the historical context, thereafter analysing the information gathered, and eventually applying their interpretation into their design works.
Visual Communication & Graphic Design
Taught in the second year of the bachelor's degree programme, this subject aims to develop essential skills for graphic design students to communicate their ideas across specialised applications both traditional and alternative.
Featuring advanced concepts and processes of graphic design and portfolio preparation, it encourages students to explore the creative process by combining traditional art and design media towards original design solutions, and incorporate them with the latest digital imaging and typography, packaging and digital contents for the current digital era.
With emphasis on individual creative and critical thinking skills as well as the designer's roles with professional and cultural and historical contexts, a state branding topic project is assigned to students to investigate and analyse the context and characteristics of a particular state in Malaysia, as well as its essence and distinctiveness.
Source: Wong, E.C.F and Bibi Z.H. 2021. Integration of Local Cultural Heritage in Art & Design Teaching & Learning: Creative Outputs on Sarawak Native Cultures. International K@Borneo Conference 2021, 14 September, Online.