According to the Sarawak Museum Department, Santubong is the largest archaeological site in Malaysia. Under the curatorship of Tom Harrison (curator of Sarawak Museum from 1947 to 1966), thousands of ceramic shreds excavated in 1949 and tons of formation of iron slags were discovered in the area.
It was believed that the area was once a thriving international trading port and iron mining between the 11th and 13th century AD.
It was also said that Santubong was a trading port with links to China. Findings and artifacts also suggested that the site has a historical links to Hinduism, Buddhism and the coming of Islam into Sarawak.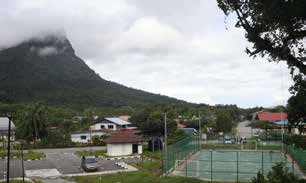 Due to its deep historical background, Sarawak is set to have its own archaeological town to promote the rich historical sites featuring ancient artifacts in the Santubong peninsular by February 2021.
According to the Minister for Tourism, Creative Industry & Performing Arts, YB Datuk Abdul Karim Rahman Hamzah, the state government is planning to turn Kampung Santubong into an archaeological town once the development of heritage sites near the village are completed.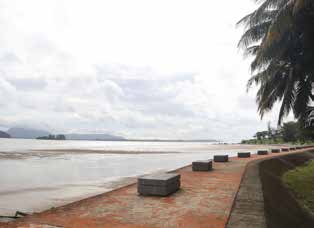 The archaeological park will provide an insight into the area's early history and what life was like in Santubong as far back in the 7th century.
In collaboration with the Sarawak Museum Department, there are three heritage sites located near Kampung Santubong that will be developed.
They are the Sungai Jaong Archaeological Park, Bongkissam and Bukit Maras Archaeological Park and the Wallace Centre.

With the estimated overall cost for the three sites to be around RM30 million, YB Datuk Abdul Karim added that the three heritage sites are currently being developed and are expected to be completed and opened to members of the public in the first quarter of 2021.
Sungai Jaong or Jaong River is famous for its rock carvings and evidence of human settlement stretching back more than a thousand years. And one of the main attractions here is the 'Batu Bergambar', a rock sculpture of a human body lying spread eagle. Believed to be an ancient industrial site, the site has many small fragments of iron slags left behind by Chinese settlers involved in smelting industry about a thousand years ago as well as West Asian glass can be found at Sungai Jaong.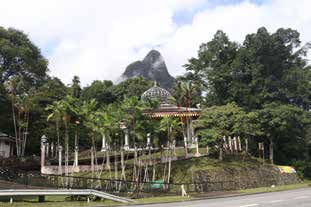 Bongkissam and Bukit Maras on the other hand are known to be the site of an old Hindu temple which is dated about a thousand years ago. Among the objects that were found at the site includes a silver ritual box and 142 gold objects.
The Wallace Centre was once the residence of the British naturalist, explorer, geographer, anthropologist and biologist, Alfred Russel Wallace. The centre is a tribute to Wallace who was known for his botanical fieldwork in Sarawak in the 1850s.