Sarawak Digital Economy Awards 2023 (DEA 2023) celebrated the pinnacle of technological innovation and excellence showcased the remarkable achievements of outstanding organizations and agencies that are at the forefront of driving digital transformation in Sarawak's dynamic business landscape.
Sarawak DEA 2023, culminating in the grand awards ceremony on 5 October 2023, illuminated the remarkable achievements of the eight finalists and their winning projects. This spectacular event served as a jubilant celebration of digital innovation, collaborative excellence, and remarkable progress. Providing a platform for visionaries, pioneers, and innovators to inspire, collaborate, and pave the way for a digitally advanced Sarawak, the winners this year will certainly be one to watch out for in the coming years.
Making waves in the Sarawak tech community, with this year's edition experiencing an impressive 32 percent increase in participation compared to last year, with a remarkable 139 entries received through a specially developed online system that implemented stringent admission criteria, resulting in only 81 entries meeting the criteria for the first round of assessment.
"Our digital journey is not just a government initiative; it's a collective vision involving all stakeholders: government, private sector, and the people of Sarawak. We understand that the digital economy is about enhancing the way it is applied to our daily lives, for the betterment of our citizens, simplifying their lives, and creating prosperity, " said YAB Datuk Patinggi Tan Sri (Dr) Abang Haji Abdul Rahman Zohari Bin Tun Datuk Abang Haji Openg, the Premier of Sarawak in his officiating speech. The Premier was the main catalyst in this initiative and the coveted Sarawak DEA 2023 Premier's Award.
Notably, the Digital Technology Transformation Award and Category received the highest number of entries, each with 14, offering entrants more opportunities for recognition. While Government-Linked Companies (GLCs) and the Private Sector dominated participation, highlighting the need for greater involvement from Industries, entrepreneurs, SMEs, and NGOs in future Sarawak DEA 2023 editions. From these submissions, 24 finalists made it through to the second round of assessment which involve a 5-minute pitching session followed by questions from the panel of judges.
NEUON AI, the emerging leader in AI technology, clinched two coveted titles at the Sarawak Digital Economy Awards 2023 (Sarawak DEA 2023). The company's ground-breaking contributions to the digital landscape earned them the Premier's Award and the Research & Development and Commercialisation Award. Their innovative fully in-house developed AI solution and locally owned intellectual property is sustainable, scalable and centres on development of revolutionary AI applications, exemplified by their AI face recognition system and versatile SSS platform.
They also won the Research & Development and Commercialisation Award category for revolutionizing the industry with advancement in automated vision technology. Their locally developed AI platform, which is low cost, easy to use and scalable, involves community engagement and can be used by multi agencies. It was these transformative strides in automated vision technology with an affordable, user-friendly AI platform fostering community engagement that gave them the winning edge.
SiliconNet Technologies Sdn. Bhd. is another contender that investors should keep an eye on in the upcoming years. Clinching two prestigious awards at Sarawak DEA 2023; the Digital Technology Transformation Award and the Digital Leadership Award, in which both initiatives aided in propelling Sarawak towards a cashless society, sparking a revolution in payment systems, fostering behavioural transformations, inclusivity, and digital advancement in both society and business.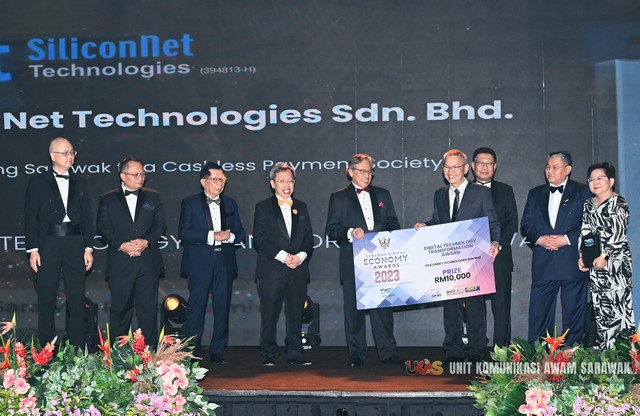 The Sarawak DEA 2023 also celebrated outstanding achievements in the following categories:
PREMIER'S AWARD: NEUON AI SDN BHD. Recognizing ground-breaking contributions – locally-owned AI intellectual property, displaying good financial sustainability, with a robust and scalable platform. Their transformative impact and work with the AI and group sourced big data seeks to aid in areas such as road maintenance and road safety across Sarawak.
1. DIGITAL TECHNOLOGY TRANSFORMATION AWARD: SILICONNET TECHNOLOGIES SDN BHD. Driving Sarawak towards a cashless society, igniting a revolution in payment systems.
2. RESEARCH & DEVELOPMENT AND COMMERCIALIZATION AWARD: NEUON AI SDN BHD. Pioneering industry advancement through automated vision technology. Their locally developed AI platform is affordable, user-friendly, and scalable, paving the way for innovation and community engagement.
3. ENTREPRENEURSHIP AND STARTUP AWARD: HORNBILL NETWORKS CONSORTIUM SDN BHD. Honouring innovation and sustainability in affordable housing, eco-friendly practices, and cost-of-living reduction, with Samariang Avenue leading the way.
4. DIGITAL INCLUSIVITY AWARD: MALAYSIAN COMMUNICATIONS AND MULTIMEDIA COMMISSION (MCMC). Recognizing Pelan Jalinan Digital Negara (JENDELA) – Initiative 2020-2025, for impactful community contributions, extensive rural coverage, sustainable government funding, and empowering community entrepreneurial programs.
5. DIGITAL GOVERNMENT AWARD: FOREST DEPARTMENT SARAWAK. Applauding Sarawak Logs Tracking and Forest Revenue System (REVLOG) for enhancing Sarawak Timber Legality Verification System (STLVS), streamlining revenue collection with reduced reporting times, cost-efficiency, and revenue growth.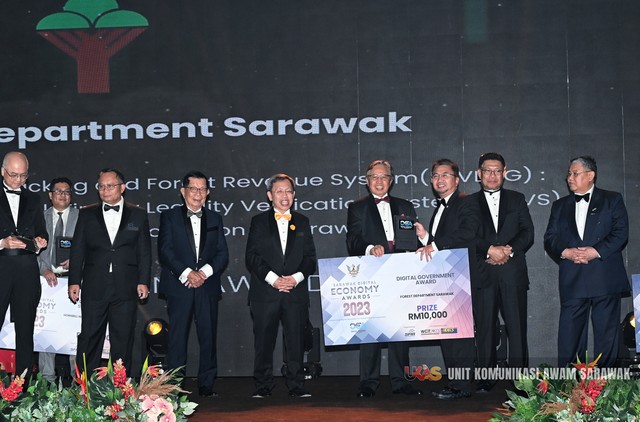 6. DIGITAL CREATIVE CONTENT AWARD: MYCONTENT DISTRIBUTION SDN BHD. Celebrating Sarawak's international presence through "Tebus The Movie" on global streaming platforms, helping to promote local talent, culture, and tourism.
7. ENVIRONMENTAL SUSTAINABILITY AWARD: SINISANA TECHNOLOGIES SDN. BHD. Recognizing the world's first blockchain-traceable sustainable pallet with its scalable, affordable, low-maintenance, and environmentally impactful solution, championing circular economy.
8. DIGITAL LEADERSHIP AWARD: SILICONNET TECHNOLOGIES SDN. BHD. Leading the Sarawak Digital Economy Initiative with the successful implementation of SPayGlobal throughout Sarawak. Acknowledged for catalysing behavioural transformations in society and business, promoting inclusivity, and driving digital transformation forward.