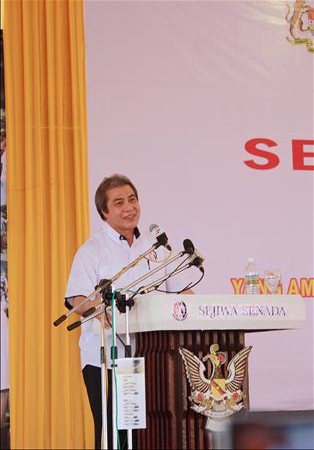 Second Minister for Resource Planning and Environment, Datuk Amar Awang Tengah Ali Hasan said that the main objective of SCORE was to create high-value investments, business and job opportunities that will sustainability drive the socio-economic growth of Sarawak.

"More importantly, SCORE will help Sarawak to create new sources of wealth and to move the State's economy up the value chain and ultimately, all these activities will increase the per capita income and enhance the quality of life that will lead Sarawak towards a high-income economy and developed State by 2020," he said.
He said this when speaking at the Panel Discussion for the Inside Invest Forum Asia 2012 held at St. Regis Hotel, Doha Qatar.
He said between 2008 and 2030, the Sarawak economy would expand by 5.1 times, the population growing by 1.9 times and approximately 1.6 million new jobs created.
SCORE was located within the Central Region of Sarawak, with an area of over 70,000 sq. Km and historically, economic and natural resources within this Central Region had been under-utilised, especially its riverine system that had the potential to generate up to 20,000 MW hydropower; he said.
"With the increasing concerned on energy issues, the timing couldn't be better to open up Sarawak to the mutual opportunities that global capital and technology can bring to our State," he said.
YB Awang Tengah Ali Hasan who is also the Minister for Public Utilities and Minister for Industrial Development said for the successful implementation of SCORE by 2030, the plan had multiple components such as manpower development as well as modern infrastructure and utilities.
Through SCORE, he said, a sum USD 100 billion was projected to be invested to reach its fruition of which, USD 22 billion was through public investment while the remaining investments of USD 88 billion should come from private investment especially for power sector and industrial, he said.
"Therefore, the key driver for the successful implementation of SCORE will be private investment," he added.
The State's immediate need was especially for foreign investors to establish selected clusters of trigger industries at our 8000 ha Samalaju Industrial Park, he pointed out.
The minister said Samalaju was now being developed for heavy and energy-intensive industries to further add value to our economic inputs and a new township, modern infrastructure and utilities as well as telecommunications were being developed to cater to the specific investors needs.
"A case in point is the development of Samalaju's own dedicated deep sea port which will benefit new industrial set-ups in respect to effortless logistics for the incoming raw materials and outgoing finished products," he said.
Reiterating on what SCORE had to offer, YB Datuk Awang Tengah Ali Hasan said the State Government offered attractive land prices, competitive electricity tariff and water rates to preferred industries operating in the Samalaju Industrial Park.
In addition, investors in preferred industries in SCORE would receive attractive tax incentives offered by the Federal Government through the Malaysian Investment Development Authority (MIDA) such as Pioneer Status, Investment Tax Allowance, and Reinvestment Allowance, he said.
Other than that, investors could also receive other incentives from the Federal Government such as infrastructure allowance, import duty exemption, and double deductions on freight charges and a business-friendly Government that was committed to work hand-in-hand with investors in order to facilitate the successful implementation of their proposed projects.