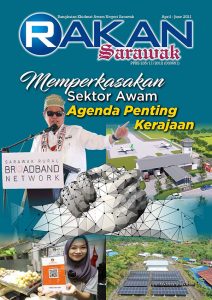 Projek Naik Taraf Hospital Umum Sarawak Secara PFI
Apabila siap sepenuhnya kelak, Hospital Umum Sarawak mampu meningkatkan kepuasan pelanggan dengan mengurangkan tempoh masa menunggu rawatan dan masa prosedur dilaksanakan.
Meningkatkan Kesedaran Pemuliharaan Hutan Melalui Program Restorasi Landskap Hutan (FLR)
Sebagai agensi yang mempelopori pengurusan hutan sejak lebih 100 tahun lalu, Jabatan Hutan Sarawak (JHS) mengambil pelbagai inisiatif dalam mengurus, memelihara serta meningkatkan kesedaran terhadap
pemuliharaan hutan di negeri ini.
Dua Pusat Kegiatan Ekonomi Luar Bandar di Lawas Mendapat Perhatian KPLB
Pusat Kraftangan Manik Seramik yang terletak di Kampung Long Tuma, Lawas merupakan satu-satunya pusat yang menghasilkan manik seramik di Sarawak.
JBALB Cadang 126 Buah Projek Bekalan Air Untuk Dilaksanakan Dalam RMK-12
Projek-projek tersebut merangkumi penyambungan paip ke kawasan-kawasan baharu, naik taraf kapasiti loji rawatan air dan menaik taraf pam penggalak untuk meningkatkan tekanan air rendah di beberapa buah kawasan yang terkesan.
MTAC Laksana Pelbagai Projek Berimpak Besar Dalam RMK-12
MTAC juga akan terus melaksanakan pembangunan untuk kawasan-kawasan pelancongan di Sarawak dengan membangunkan fasiliti eko-pelancongan di kawasan taman negara, pantai dan air terjun.
IAC Limbang Mercu Tanda Baharu Lambang Perkhidmatan Berkualiti Kepada Rakyat
Pusat pentadbiran bersepadu baharu tersebut juga melambangkan komitmen kerajaan dalam memberikan perkhidmatan berkualiti kepada rakyat, khususnya di Bahagian Limbang dan Daerah Lawas.
Perkhidmatan Perbankan Bergerak Untuk Masyarakat Luar Bandar
Inisiatif Bank Bergerak adalah sebahagian daripada Pakej Bantuan Khas Sarawakku Sayang yang diumumkan Ketua Menteri pada 8 Mei 2020 dengan peruntukan sebanyak RM1.6 juta.
Perkhidmatan Tele-Kaunseling JKMS
Tele-Kaunseling ialah satu perkhidmatan menolong tidak bersemuka. Perkhidmatan ini diadakan secara atas talian bagi tujuan membantu klien yang memerlukan sokongan psikologi dan emosi. Perkhidmatan ini dikendalikan oleh Cawangan Psikologi dan Kaunseling JKMS.
Government's Stimulus Packages and Financial Assistance Paved The Path Towards Economic Recovery
Since the first Movement Control Order (MCO) was implemented last year, the Government has introduced various financial assistance to limit the human and economic impact of the COVID-19 pandemic.
Digital Services in the Agriculture Sector in Sarawak
Under the State's Department of Agriculture, one of the digital services used for smart farming is the Weed, Insects, Microorganism Collection Sarawak (WIMICS).
CENTEXS Digital Academy – Preparing Talents for the Digital Economy
Given the continuous effort CENTEXS is taking, the Digital Academy is bound to ensure that graduates are job-ready to meet the demands of Sarawak's digital economy agenda through its international and industryrecognised programmes.
More Locations Identified for High Impact Projects in the Sarawak Agriculture Sector
In total, there are 17 Agroparks that have been proposed to be developed throughout Sarawak. For the Smart Farming Program (Precision Farming), the Department of Agriculture Sarawak (DOA) has implemented a fertigation and hydroponic program with a total allocation of RM17 million under the 11th Malaysian Plan.
Desa Lestari Program to Benefit Rural Communities
Up to 2020, a total of 13 villages in Sarawak have successfully received grants to carry out Desa Lestari projects.
Championing Entrepreneurship in Sarawak
In recent years, MINTRED has carried out new entrepreneurship development initiatives to encourage participation in the digital economy. The Digital Entrepreneurship Programme, for instance, is an awareness and training programme focusing on online business skills and promoting the use of digital marketing and electronic transactions.
Enabling Creative Talent Development among Young Sarawakians
Grants received will also allow young Sarawakians to improve and add value to their arts and culture-based projects or programmes, which should benefit the local community especially their fellow youths.
The Immense Potential of Kuching's Electric City Bus Service
Sarawak's first ever electric city bus service is a great addition to its urban public transport system and has a massive potential not only in becoming a green alternative for environmentally conscious passengers but also in providing convenience for everyday commuters.