The MLGH OACP development process in the Ministry is as follows:
OACP MLGH Briefing
Prior to the development of the OACP, a briefing on the OACP was held on 14th August 2020 involving all Heads of Sections and Units in the Ministry.
This briefing aims to explain about the OACP and the Integrity Unit's planning in developing the plan.
On 14 August 2020, the Integrity Unit in the Ministry has collected data on risks that have been, are and will occur in each Section and Unit in the Ministry using the Risk Registration Schedule.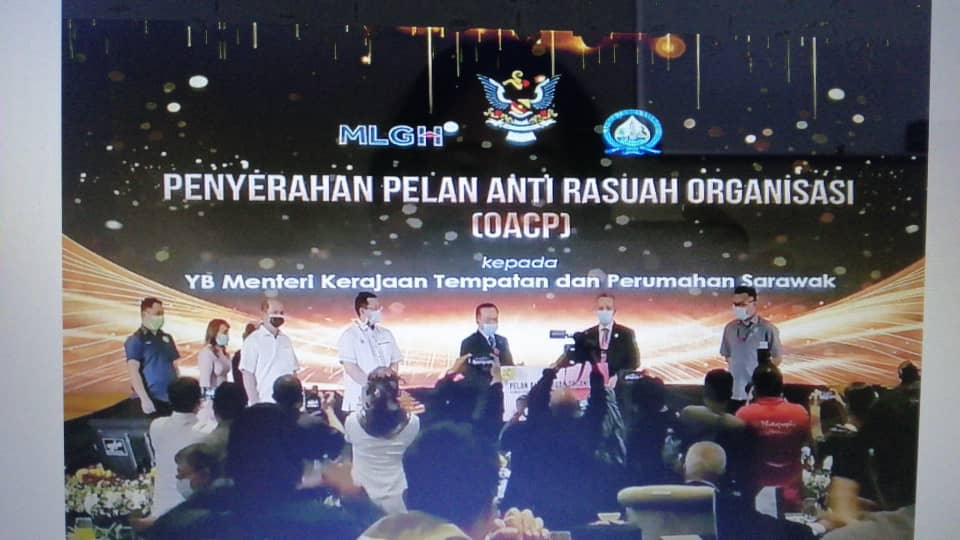 Appointment of OACP MLGH Related Committees or Jawatankuasa Berkaitan OACP MLGH
Members of committee namely the JPTO, JP-OACP and SP-OACP in the Ministry were officially appointed on 11 September 2020 through a reference appointment letter: MLGH/ AUD/27 Vol. 1 (13) to assist in developing and preparing the Ministry's OACP.
The risk data that was compiled was presented to the members of the JP-OACP of MLGH OACP during the pre-Workshop on 21September 2020. The MLGH OACP Development Schedule was also presented during the pre-workshop.
An OACP MLGH workshop was held from 31 October 2020 to 1 November 202O in Kuching. In this workshop, officers in the Ministry were divided into six groups to further discuss the issues and/or risks that exist in their respective sections and/or units to develop action plans as well as implementation of the timeframes to combat these problems.
These six groups represent 6 priority areas in the MLGH OACP.
OACP MLGH Refinement Workshop
The MLGH OACP Refinement Workshop (Bengkel Pemurnian) was held on 18th November 2020 involving the JP-OACP and SP-OACP for the purpose of refining the risk outcomes and initiatives that have been prepared in the previous OACP MLGH workshop.
Presentation of OACP MLGH to JPTO
The OACP MLGH 2021-2025 refined results were presented to JPTO for approval.
Improvements were made based on the recommendations by JPTO members during the presentation session.
The MLGH OACP 2021-2025 was launched by the Minister of Local Government and Housing, YB. Prof Dato Sri Sim Kui Han on 25 November 2020 at Miri.
* JPTO – Organizational Top Management Committee or Jawatankuasa Pengurusan Tertinggi Organisasi
* SP-OACP – Coordinating Secretariat Committee OACP or Jawatankuasa Sekretariat Penyelaras OACP
* JP-OACP – Development Committee OACP or Jawatankuasa Pembangunan OACP