The date 14 December 2021 is deemed historical as Pantu has now been officially elevated to district level.
During the launching ceremony, the Sarawak Chief Minister said that Pantu's elevation to a full district would be accompanied with the establishment of an administrative complex.
He added that this would allow for better implementation of various government initiatives on top of providing better job opportunities for the people here.
The new complex will also include the district office where it would also help Pantu into becoming a tourist centre leading to Batang Ai.
Apart from that, a district council would also be formed with the appointment of councillors as well as the appointment of more community leaders.
With Pantu being elevated into a full district, the public can expect to see more of its surrounding areas becoming sub-districts in the future, paving the way for better administrative services.
As such, YAB Datuk Patinggi Tan Sri (Dr) Abang Haji Abdul Rahman Zohari bin Tun Datuk Abang Haji Openg said that the State government was always on the lookout to assist those residing in rural areas as reflected in its State Budget allocation where 70 percent of the total were set aside for non-urban environments.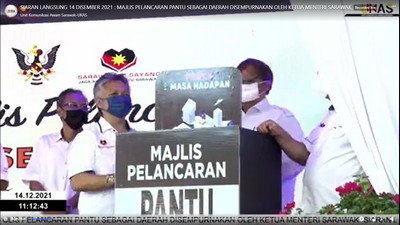 With an area of ​​731 sq km, Pantu was previously a sub-district under the Sri Aman administration.
In 2021, Pantu is among the five new districts approved by the State government. The others are Lingga in Sri Aman, Gedong in Samarahan, Siburan in Serian and Sebuyau in Samarahan.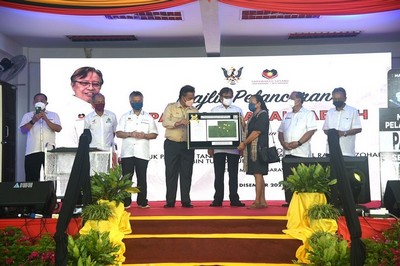 On the other hand, Balai Ringin in Serian had been declared as a sub-district.
Abang Johari said to stimulate development and growth in the rural areas, their administrative structure must be organised and complete, which is why the state government has decided to upgrade Pantu to a full district.
Also present at the launching ceremony was State Secretary YB Datuk Amar Jaul Samion.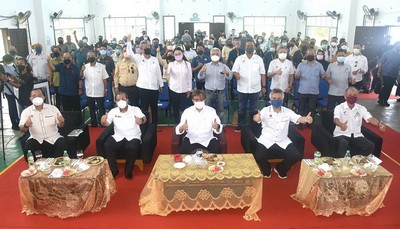 He said that by upgrading the Pantu sub-district to a full district, this would help improve the delivery of government services to be more responsive and effective in meeting the needs of the people of Pantu.
Datuk Amar Jaul added that the establishment of the Pantu district administration is very timely in supporting and coordinating the implementation of various programmes and projects in the Sri Aman Division through the Sri Aman Development Agency (SADA).
Aside from that, all administrative matters include estate or probate administration, adoption management, Bumiputera Court, administration of community leaders and chiefs' affairs and welfare application matters will be handled at the Pantu District Office.