It was an unforgettable and arduous journey travelling from Miri City to Long Latei.
Located about 62 kilometres from the town of Long Lama in Marudi, the almost three hours journey to the Penan village was not an easy one.
One would need to have a four-wheel drive (4×4 vehicle) to travel there as the bumpy and rough logging road makes it easy to get carsick.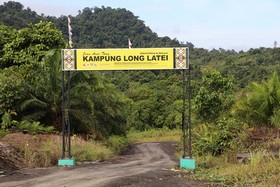 On the way there, the roads are mostly surrounded by palm oil plantation and the plants are covered with dust due to road and vehicles.
While the clear blue sky was welcoming and sunny, the dusty air prevents anyone from rolling down the window to enjoy fresh air.
However, this does not seem to bother the local community as most of them had their car windows rolled down with some passengers sitting at the rear exposed to the dusty air.
In contrary to the bad condition of the road, the Penan community of Long Latei seemed to be doing more than well.
"The people here from Long Latei are mostly involved in oil palm plantation,"
"It all started in 2014 when Temenggong Datuk Hassan Sui who is the Penan community leader and millionaire involved in oil palm cultivation gave each household 300 oil palms seedlings to plant," said Ketua Kampung or head village (KK) of Long Latei, Jangin during an interview with RAKAN Sarawak.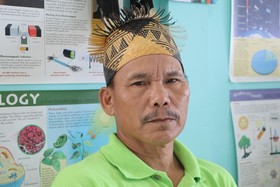 At present, the village of Long Latei has 112 household and the population of 405 (and growing) people.
Established in 1985, KK Jangin said the village initially only had 37 households.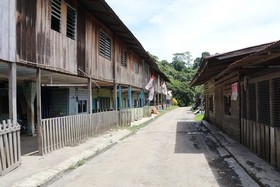 During our visit there, the village resembles a small town with rows of longhouses in blocks while there are also a handful of individual houses in between and a few small sundry shops operated by the villagers themselves.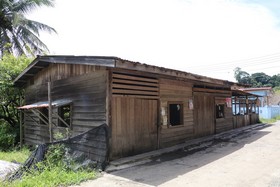 The village also has one pre-school and a church as well.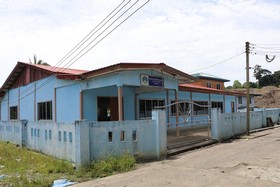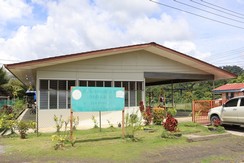 Smaller children attended pre-school that is located in the village, most of the children go to boarding schools at Long Bedian or Bakong.
The village is also fully equipped with water supply from water tanks and electricity from solar power as well as Internet connect using CONNECTme NOW, a WiFi Hotspot service leveraging on MEASAT innovative satellite broadband system.
According to KK Jangin, when the idea of planting palm oil was first introduced to them, there were a handful of people that opposed to it as they fear for their land being taken away.
However, due to persuasion, many began to warm up to the idea.
"The main goal was to elevate the socio-economic life of the Penan community in the area," said KK Jangin.
Unfortunately, those living further in the interior of the area did not have the opportunity due to logistics.
Melai of Long Liwok, another Penan village in the area is also an oil palm farmer.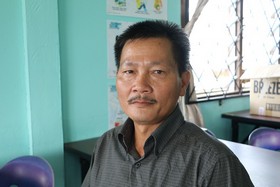 Located about an hour from Long Latei, the village has 37 households and a population of 105 people.
Started in 2015, he now owns about 500 oil palm trees and about half of the people in his village are oil palm farmers.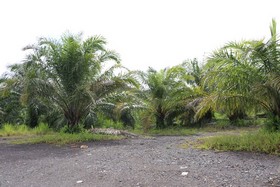 Now, KK Jangin said that each oil palm farmers or smallholders of Long Latei can easily earn up to RM5, 000 on average every month, with some of the villagers can earn up to RM10, 000 each month.
"Before oil palm, most of us were paddy farmers, fishermen or work in logging companies," he said adding that he himself was working in a logging company since 1983 before quitting in 2014.
As every household is an oil palm farmer, they can each have about one to two 4×4 vehicle to transport the oil palm from their plantation to the oil palm mill down town at Long Lama.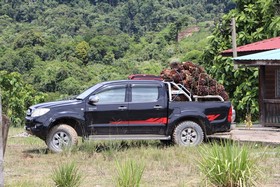 While most of the men of Long Latei are involved in oil palm plantation, most of the women are pursuing a much softer activity.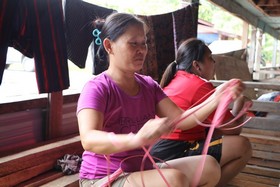 According to Payang, wife of KK Jangin, most of the women are involved in making handicrafts.
Having started her business in 2012, the mother of four children and a grandmother of 12 grandchildren initially used rattan as the main materials and then using plastic in 2018 upon receiving grants from the State Agriculture Department to purchase new materials.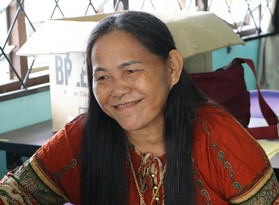 Among the items includes bags, mat and a bottle carrier.
"Most of our customers are those who came from visit from Miri and we also have customers as far as Kuala Lumpur who ordered our products online," she said.
She explained that the number of customers has expanded due to the word of mouth by those who visited their village and bought her products.
With the introduction of Internet connectivity, she added that her daughter has helped market their products through social media platforms such as Whatsapp.
As of now, Payang said that she can earned up to RM2,000 to RM3,000 per month from selling her handicraft products as they are now getting more demands from various customers.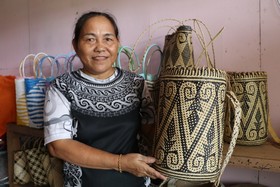 "When we first use rattan, we can only produce up to 10 products a day as it was difficult to gather raw rattan from the jungle,"
"It would take us about one week to process rattan from gathering the materials in the jungle to drying it for weaving," she explained.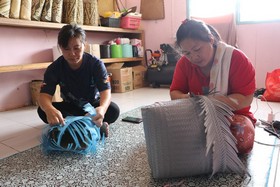 Since using plastic, she said that she along with her daughter and sister can produce up to 30 items daily, hence increasing their income due to mass production.