The digital economy has evolved since the middle of the 1990s, reflecting how quickly technology is developing and how organisations, governments, and consumers utilise it.
In this challenging environment, Sarawak Government planned and launched the Post COVID-19 Development Strategy 2030 (PCDS 2030) in July 2021, outlining the initiatives to accelerate Sarawak's progress to be a developed region by 2030.
The aspiration of Sarawak is that by 2030, Sarawak will be a thriving society driven by data and innovation where everyone enjoys economic prosperity, social inclusivity, and a sustainable environment. This will chart the path to strategically position ourselves as a competitive region in this new era.
On 4 October 2023, Premier of Sarawak, Datuk Patinggi Tan Sri (Dr) Abang Haji Abdul Rahman Zohari bin Tun Datuk Abang Haji Openg when officiating the World Congress on Innovation and Technology 2023 which was held simultaneously with the International Digital Economy Conference Sarawak 2023 (WCIT-IDECS 2023) in Kuching launched the Sarawak Digital Economy Blueprint 2030.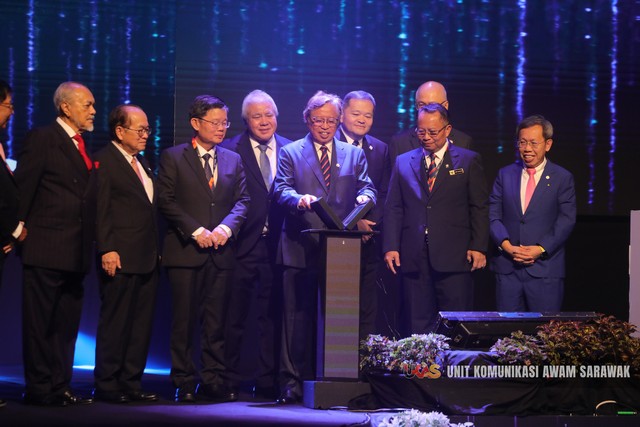 The Sarawak Digital Economy Blueprint 2030 is an economic and social development plan underpinned on United Nations Sustainable Development Goals (SDGs) that will benefit the public sector, businesses and the society through improved public service delivery, new sustainable business models and access to global market, job opportunities and social wellbeing.
It is a document that will transform the whole-of-economy and society from conventional resource-based economy to environmentally sustainable technology-based economy. This is also to ensure that Sarawak will not be left behind as most developing countries are already at the forefront of digital economy.
Over the past five (5) years, Sarawak has achieved several remarkable successes and has been investing in digital economy in the key enablers, including digital government readiness, telecommunication infrastructure, innovation and start-up ecosystem and digital talent and inclusivity.
Number of Innovation hubs were established to grow high-tech start-ups and spin-ins in Sarawak. Currently there are 22 government and businesses funded innovation hubs and a Digital Village to accelerate startups growth in Sarawak. These have resulted in 26 high-tech start-ups and 27 high-tech research projects are undergoing acceleration towards commercialisation. 45 Digital Community Centres were established to catalyse community socio-economic development resulting in approximately 3,000 community programmes being conducted, benefiting 80,000 participants (Sarawak Digital Economy Blueprint 2030).
It is important for Sarawak to accelerate the State's digital transformation towards an advanced digital economy and society.
"A key goal of the Blueprint is to inspire businesses to come up with new ideas, use them, and adapt to contemporary business models. It also aims to help people use their skills to succeed in the digital world and create a system where everyone can benefit from the digital economy. With this, Sarawak aspires to become a major digital economy powerhouse in the region by 2030, making sure that growth benefits everyone, does not harm the environment, and is achieved in an inclusive and responsible way." – Premier of Sarawak, Datuk Patinggi Tan Sri (Dr) Abang Haji Abdul Rahman Zohari bin Tun Datuk Abang Haji Openg