Travelling to Samarahan Division has become easier than ever with its continually expanding road network and bridges.
It was a far cry from Samarahan before the 1990s, where roads in villages as well as roads connecting villages were of earth roads, grass roads, plank roads or concrete slab roads.
At that time, its people relied heavily on water transportation along its rivers via ferry, express boats or privately owned boats to travel, to deliver agricultural produce or to fish as part of their economic activities.
"To get to Kuching in the 1970s, we would travel by boat for around two days and two nights," recounted Samarahan Resident Tuan Haji Brahim Lumpu in an interview with RAKAN Sarawak. He remembered the experience as he was born and raised in the division.
Proper road infrastructure in Samarahan began in 1975 with the opening of Jalan Muara Tuang; since then, up until the 1990s, more roads were constructed to connect the division with other parts of southern Sarawak.
These roads include Kota Samarahan-Kuching via Jalan Datuk Mohammad Musa connecting Mile 7 Jalan Penrissen, Simunjan-Kuching through KM 112 Jalan Kuching/Sri Aman and Asajaya-Kuching via the UiTM-Asajaya Road.
The 1990s saw the completion of the Kuching-Samarahan Expressway, and it was this road that "led to the establishment of higher learning institutions such as UNIMAS (Universiti Malaysia Sarawak) and UiTM (Universiti Teknologi Mara)," said Tuan Haji Brahim.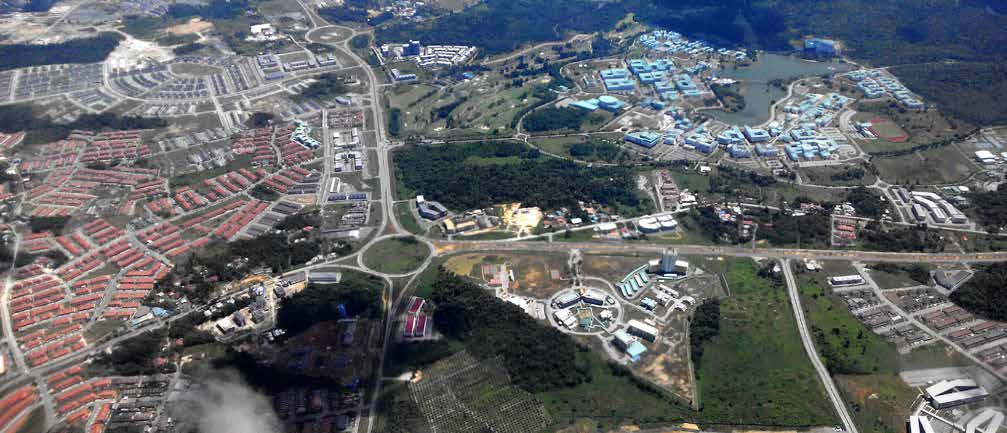 Indeed, the expressway has brought about significant transformation to the division, especially in Kota Samarahan; among them are the existence of large-scale residential areas such as Taman Samarindah, Taman Desa Ilmu and Taman Riveria, and rapid development of commercial areas along the stretch.
Yet, ferry services were still utilised to reach Asajaya and Simunjan via Batang Samarahan and Batang Sadong, respectively, which meant commuters would still have to travel for hours to arrive at rural destinations in Samarahan.
The people's hope for a shorter commute came to fruition with the opening of Batang Sadong Bridge in 2016 and Batang Samarahan Bridge in 2018, thus ending the use of ferries along these major rivers and providing commuters a convenient and time saving travel.Today, Samarahan Division has 98 percent of road network coverage, connecting urban areas with most villages and cutting down travel time between destinations.
To illustrate, travelling to Sebuyau from Kuching today takes about 1 hour and 30 minutes compared to 3 hours in the 1990s, whereas Samarahan to Asajaya takes only about 15 minutes via Batang Samarahan Bridge in comparison to 30 minutes through the UiTM-Asajaya route.
"These roads have also opened up lands in Samarahan for development, enabled the transport of goods and provided better accessibility for the people," said Tuan Haji Brahim.
However, there are villages that are yet to have roads, namely Kampung Beliong, Kampung Sg Kura and Kampung Tanjo in Asajaya, as well as Kampung Sg Ijok, Kampung Sg Jong, Kampung Tg Sap and Kampung Tg Tanglong in Simunjan.
On this issue, the Samarahan Resident assured that there are plans to develop road connectivity in these villages in the future; by then Samarahan will be able to achieve full coverage of its road network.
Yet, as Samarahan is only limited to one expressway, the area is confronted with frequent traffic jams due to commuters travelling from the division to Kuching city on a regular basis.
To address this, plans from the Government through the Public Works Department (JKR) is underway to upgrade the Kuching-Samarahan Expressway, as well as Jalan Datuk Mohammad Musa to ease congestions.
There are also projects that are in the works and are expected to be implemented to further expand road connectivity between Samarahan and the central region of Sarawak, including the Coastal Road and Second Trunk Road Network.
Most notable is the construction of Batang Lupar Bridge that will be funded by the Sarawak State Government. The 5km bridge, set to be the longest river bridge in Malaysia, will connect Sebuyau of Samarahan Division with Triso in Betong Division.
The ongoing expansion of road network in Samarahan suggests the importance of having land connectivity in a vast land like Sarawak not only to ensure better accessibility for its people, but also to drive socioeconomic development.
This article first featured in RAKAN Sarawak April-June 2019 printed issue.