According to the United Nations, 68 per cent of the world' population will live in urban areas by 2050.
The pressure on natural resources including food, water and electricity will increase while new infrastructure, services and housing will be needed.
Cities are the largest consumers of energy and materials, but at the same time they offer an opportunity to manage resources better and efficiently.
In this part of the world, the concept of sustainability, recycling and green practices is not widely practiced, but it is surely gaining awareness among the public.
As part of the effort in implementing the circular economy, during the Malaysia Innovates Summit 2022 in August at MITEC, the Petaling Jaya Council (MBPJ) Solid Waste Management and Public Cleaning Department Director, Lee Lih-Shyan highlighted some of the green initiatives by the council for sustainable living.
These initiatives can be implemented here in Sarawak to create a circular city of our own.
With the implementation of circular economy in cities and other regions expected to reduce negative impacts on the environment through pollution decrease, increased share of renewable energy and reduction of raw materials, water, land and energy consumption while potentially increasing resilience and enhancing opportunities for economic growth and jobs.
According to Lee, since 2011, MBPJ offer assessment tax rebates to ratepayers who maintain a sustainable lifestyle.
Lee added that, as the first council in Malaysia and Asia to come up with the programme, houseowners are given a one-time rebate if they implement environmentally-friendly practices in their homes and adopt a low-carbon lifestyle.
It was reported that households that are keen on the programme will be evaluated based on conservation in the form of energy, water, waste, transportation and biodiversity.
For instance, points are given to households with green practices such as installation of solar panels, solar heaters, usage of LED lighting and roof insulation, installation of rainwater harvesting system, recycled use of water for cleaning toilet use, composting, recycling and also use of hybrid vehicles, public transportation and bicycles.
The green initiative that was introduced by the council aimed to ensure long term goal in striving towards being a sustainable city by 2030.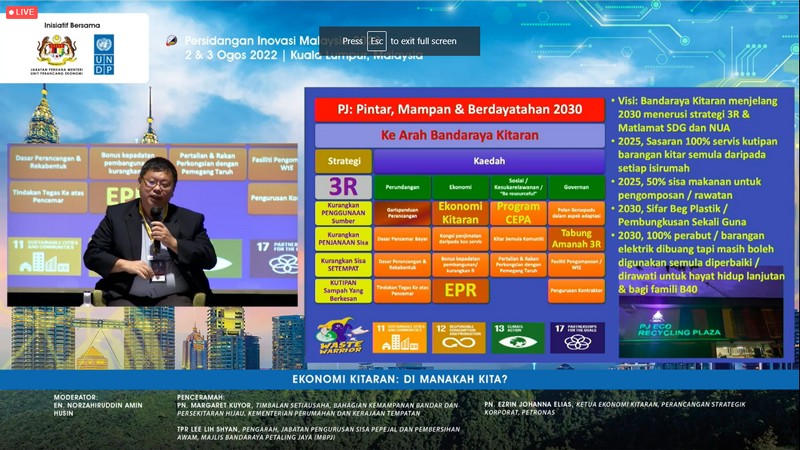 Aside from that, Lee added that the council emphasise on 3R (reduce, reuse and recycle) and promote a circular economy (where the goal is to reduce waste and reuse manufactured goods)
Sharing the vision of the council towards becoming a circular city, the council hopes that by 2025 to have 100 per cent collection of recyclable items from every household and to have 50 per cent of treating food waste for composting and by 2030 to have zero use of plastic bags and 100 per cent of recycling items such as furniture that are still functional and can be repaired for B40 families.
In implementing the 3R concept, Lee shared that composting is also a green way for a sustainable living.
He revealed that MBPJ spend more than RM8.2 million on processing food waste and the degradation of food waste accounts for the emission of 7.6 per cent of greenhouse gas.
To reduce human-caused greenhouse gas emissions by food wastage, MBPJ introduced the food composting initiative as a way to reduce spending money on discarded waste at the landfill.
By introducing the composting concept to the community, the council provided a food composting machines at several spots around the area such as hawker centres.
As of now, MBPJ has six composting centres with machines has the capacity of 3.4 tonnes per hour. The machines are designed to break food waste into fertiliser, enzymes and biogas.
To accommodate the growing population, the initiative aims to raise awareness on the crucial need for food waste composting by teaching the public on how to waste less than what has already been produced.
As the world's population continues to grow, our challenge should not be how to grow more food, but to feed more people while wasting less of what we already produce.
In addition to this, MBPJ also introduced the Petaling Jaya Community Grant or PJ SEED (Social, Environment, Economy Development) grant which provides funding for community-related projects. Each fund can range between RM5,000 and RM50,000.
The main objective of PJ SEED is to improve MBPJ's performance in the 10 related fields through community participation, partnerships and inclusiveness, all of which go towards achieving a sustainable city by 2030.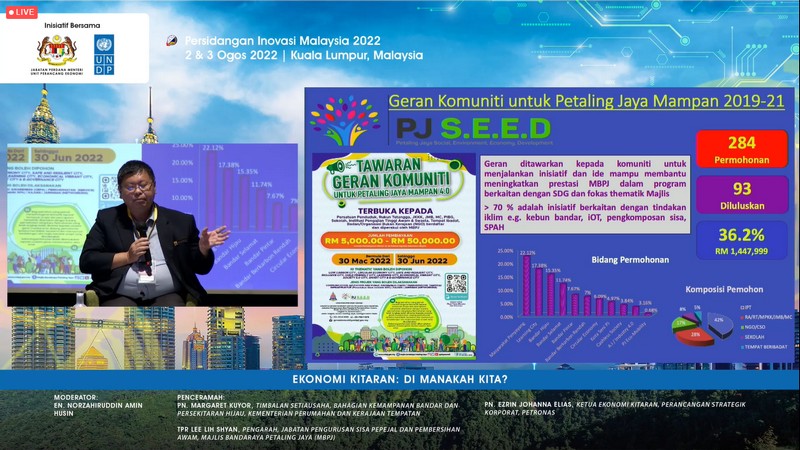 The fields are smart city and digital economy; green city and green economy; circular economy and 3R (reduce, reuse, recycle); low-carbon city; safe city; child-friendly city; learning city; sustainable transportation and infrastructure; universal design and society 5.0.
The grant is open to public such as resident associations, Rukun Tetangga sectors, schools and high learning institutions, non-governmental organisations and places of worships.
Since started in 2019, it has disbursed RM1.3 million for various green projects. As of now, MBPJ has 93 successful projects.
It was reported that among the successful projects funded were kelulut honey production, tilapia fish farming and snacks made from mulberry leaves, which have been enjoyed by the communities that have taken up the grant.
The examples of green initiatives by MBPJ can be implemented in cities around the country especially Sarawak as we have an increasing influx of population to urban areas.
Building circular economy in urban areas especially in cities can bring tremendous economic, social, and environmental benefits by reducing congestion, eliminate waste, and bring down costs, higher economic productivity and new growth will allow cities to thrive.