Prawn lovers knows that Gedong is the place to go if they are craving for a delicious piping hot prawn noodle dish.
However, if you spend more than enough time to not only enjoy a bowl of prawn noodle, Gedong has plenty of attractions to explore.
Located about an hour from Kuching, Gedong is a quaint and peaceful town that is made up of 12 villages.
As a small satellite town in Kota Samarahan, Gedong is yet to have big commercial buildings such as shopping malls, hotels and restaurants.
However, that is the part of the charm of Gedong as it has great prospect of attracting visitors from Kuching and Serian for a short and quiet weekend getaway.
The many charms of Gedong
As mentioned earlier, Gedong is known for it's supply of fresh big size prawns. In Gedong, one can actually find diners offering this dish with a selection of Gred A or Gred B prawns, where the difference between the two is the size, in which the former is bigger than the latter.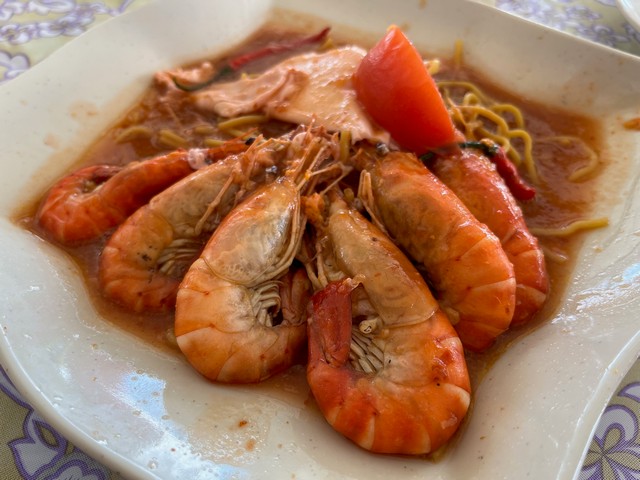 But, when ask if Gedong also has a famous seafood dish, the locals will introduce ikan bauk (bauk fish) as their special home food.
Noted to be as one of the smallest fish in the world, ikan bauk is described as having the appearance of an ikan pusuk (anchovies), measures less than one centimeter and is translucent in colour.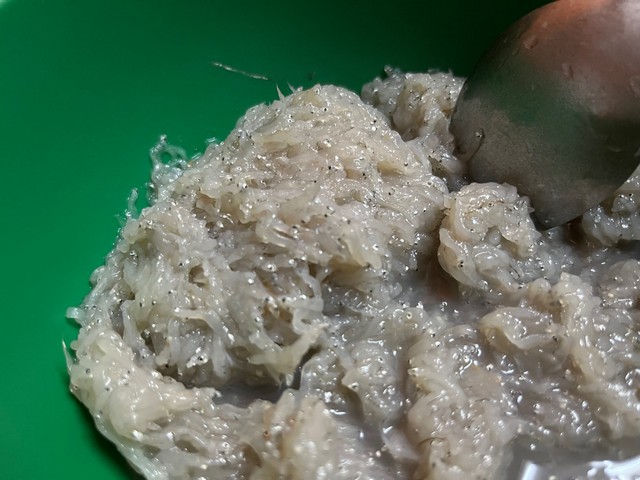 Ikan bauk is rarely served in any eateries in Gedong due to its limited supply as the demand for the minuscule fish is high just among the locals themselves.
However, this only makes this iconic food more exclusive as visitors need to stop by Gedong to get it directly from the fishermen themselves.
Aside from that, visitors might consider extending their stay to soak in the pristine view of the Batang Sadong river by the waterfront.
And if you are lucky to bump into local fishermen, you can take the opportunity to ask them for a boat ride.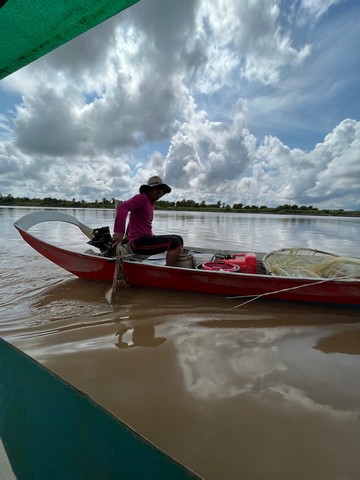 In the olden days before roads were built to connect Gedong to nearby towns, boats were the main mode of transportation for the locals.
The river itself is linked to Balai Ringin, Serian and also Simunjan.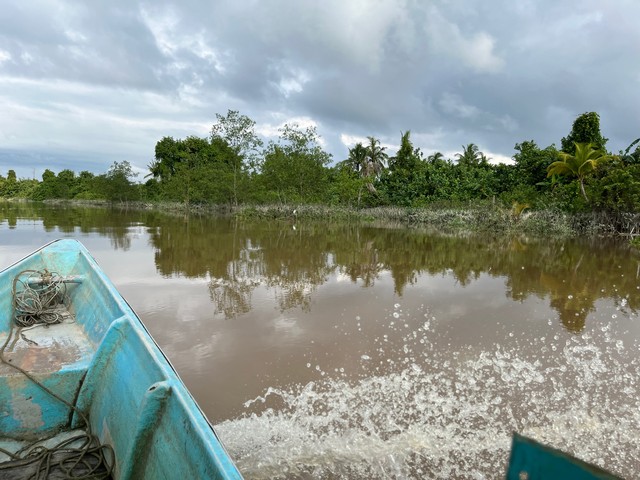 These days, the river is mainly used by local fishermen to fish. And as a natural attraction in Gedong, visitors get to explore Gedong from a different perspective and also soak their eyes in the wonderous view of the water.
The magic of Batang Sadong river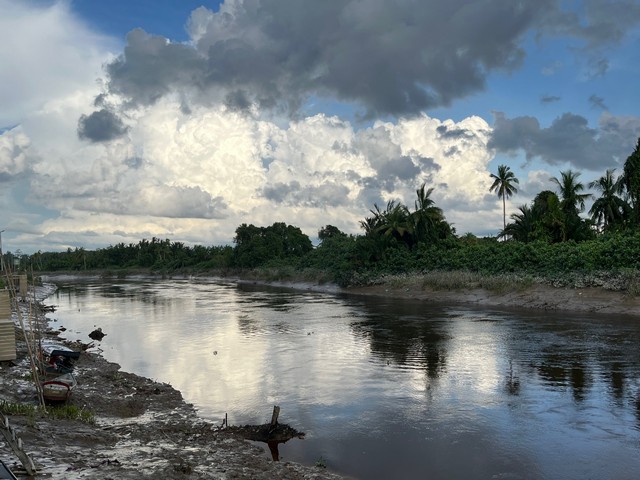 In promoting Gedong as a tourist spot, the river itself is a strong asset the community has provide a tourist experience for visitors.
As river plays an important role in providing a livelihood for the locals, the water experience can be used to raise awareness and engagement to visitors and the community alike on river pollution and restoration in Sarawak.
In addition to this, it was also noted by Pemancha Haji Abang Ronee, a local leader community that the river also serves as the prefect spot for visitors to view the natural phenomenon of tidal bore.

However, he added that the occurrence of the natural phenomenon is uncertain and will happens depending on the tide time of the water.
Tourist activities is vital as it aimed at providing tourism services, supply, job opportunities, and raise income of the local community.
From these activities, it contributes to the economy of Gedong due to the demand of tourists towards service providers in which the local community plays a huge part of it.
Since Gedong has also been elevated to a district level in 2021, Pemancha Haji Abang Ronee said that they are planning to organize its inaugural Gedong Festival this year.
The community as Gedong's main asset
With so much potential activities that can be done just at the river itself, another tourism asset that Gedong possess is the local community itself.
The locals may have innovative ideas, unique talents and fresh perspectives to share that can help promote Gedong as a popular tourism spot.
By coming up with original ideas and interesting plans, the community members can make the area more inviting to visitors.
For those who are not aware, Gedong has numerous homestays run by the local community, thus making it perfect for visitors who wishes to spend the night.
The reason why Gedong has plentiful of homestay is to provide enough accommodation for civil servants who might be spending the week for work trip and courses at the area.
With various tourist attractions, activities and accommodation for visitors in place, the only thing left to do is the participation of the local community to make Gedong an unforgettable experience for visitors.
From here, the locals can come up with an itinerary for a weekend getaway for visitors which includes the natural attractions; outdoor reaction activities; entertainment such as historic sites, festivals, shopping and dining as well as other travel purpose such as business trips and family visits.
Cultural attraction of Gedong
From here, the community of Gedong can also provide their cultural attractions to visitors such as local tradition and customs, ceremonies, cultural heritages, historical buildings, performances, handicrafts, sports and entertainment games and souvenirs.
One of the main local traditions in Gedong is the house decorating contest organised by the village community for the locals during the fasting month before Hari Raya.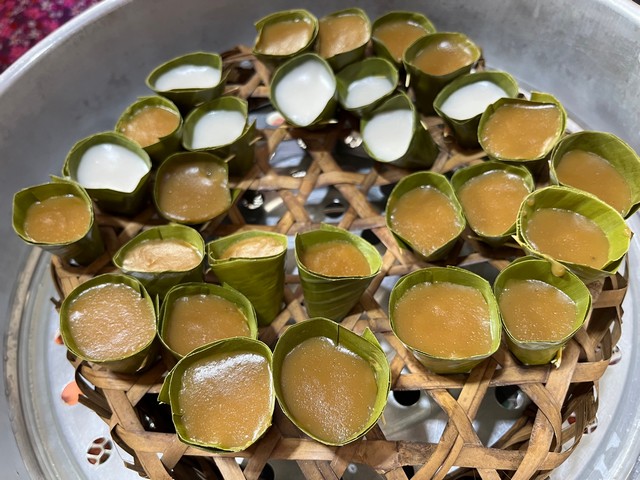 As a tradition taken very seriously by the community themselves, it is definitely a delight for both the locals and visitors alike to see the decorations put up before the Hari Raya celebration.
As Gedong is located between Sri Aman and Serian as well as Kuching, it has the potential to present itself as an attractive pit stop for outsiders who are curious to explore Gedong on their way to their actual destination.
From here, Gedong can make out on what type of visitors they usually receive and use that to come up with a plan to cater to the type of clientele that will be attracted to the community.
In addition to this, the community can also evolve to become more inventive with coming up with more attraction that can attract more visitors to Gedong.
Thus, this will give Gedong a growth of regional tourism, a competitive edge and more value than other tourism destinations as visitors can get a trip that is tailored to what they are seeking for during their visit.