JBALB welcomes cooperation and feedbacks from stakeholders and members of the public to enhance their service delivery.
To delivery better services to the people, Director Ir Chang Kuet Shian highlighted some of the initiatives by JBALB which includes the establishment of a command centre, 24-hour call centre and State Water Utilities Services Systems (SWUSS).
Service and digital initiatives by JBALB:
Command Centre – a one-stop physical and virtual platform for the digitalization of water supply in BALB including corporate communication and customer service matters
24-hour customer service (082-262211) – to handle complaints, inquiries and information on issues, water supply interruptions, customer billing accounts, and other customer related information
Anti-vandalism campaign – collaboration between Ministry of Utility and Telecommunication (MUT) and JBALAB in creating an anti-vandalism campaign
State Water Utilities Services Systems (SWUSS) – online front counter service for 14 online services by JBALB
"I hope that the media can help inform the public that for any feedbacks or complaints, they can reach us by calling 082-262211. Their call will be recorded, logged and forwarded to the nearest unit to look into it (issue)," he said.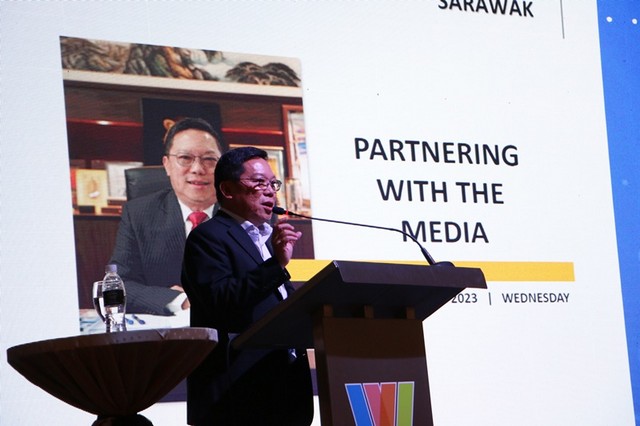 Chang also stressed that by calling the call centre, it will be more efficient for JBALB to verify the problem in a more efficient manner and resolve it as quickly as possible.
"This is the fastest way for a complain to reach us," he said.
In circulating fast and accurate information to the public,Chang noted that the media plays a vital role in closing the information gap between the public and JBALB regarding water supply.
He said that while JBALB is passionate and sincere in providing better service delivery to the people, it is not an easy task to ensure smooth water supply 24 hours every day.
As Sarawak covers a huge area and the presence of the media is ubiquitous, Chang said it a strategy to gain instant feedback from the public and measure the department relevancy on services provided.
"And as the media is everywhere, it would be a great help if the press can let them know and they promise to give the public and fast and quick response,"
"We appreciate the contribution of the press especially in relying information to the public and to close the gap," he said.
The JBALB Partnering with the Media event was held on 18 January 2021 at Kuching with the attendance of 18 members of the media.