Beginning 10 February 2023, there is no need for private vehicle owners in Malaysia to display their road tax stickers on their vehicles, and for motorists to possess a physical driving licence.
Instead, they can obtain digital versions of their road tax (e-LKM) and driver's licence (e-LMM) by downloading them through the Jabatan Pengangkutan Jalan (JPJ) Malaysia's website or the MyJPJ mobile application.
The implementation of this initiative is the first phase of JPJ's efforts in digitalising its core services, which according to Minister of Transport Malaysia YB Loke Siew Fook can help save the department up to RM96 million annually, and reduce crowds at its branches by 80 per cent.
It can also enable the public to save time, now that it is not necessary to rely on runners to settle and deliver physical road tax stickers, or be physically present at a JPJ branch or post office to get or renew their driving licence.
"This initiative will be implemented in stages, with the first phase involving individual private vehicles, including motorcycles, taking into account system readiness and public acceptance of its implementation, before expanding its implementation to the next phases," he said, adding that it also considers constraints facing those living in rural areas, especially in Sarawak and Sabah.
The move to digitalise road tax and driving licence was welcomed by many, including Minister for Transport Sarawak YB Dato Sri Lee Kim Shin, who noted how Malaysians have been adapting to a way of life that is based on digital technology, online services, and mobile applications.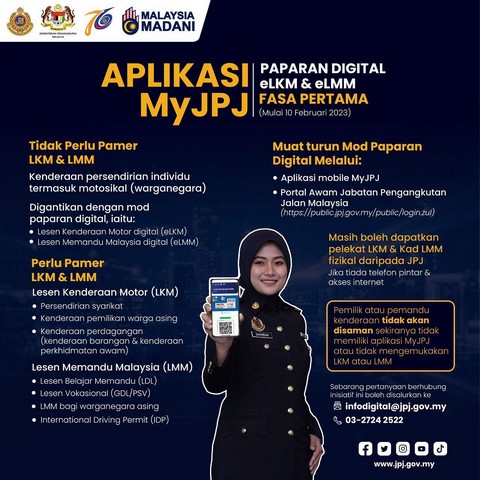 "Through the digitisation of JPJ services, we believe that this will enable the government to deliver its services to the public more effectively," he added in a statement.
For JPJ Malaysia, its overall efforts to modernise its services – undertaken since as early as the 1990s with the introduction of the SIKAP system that has since been upgraded to the mySIKAP online system – not only meant cutting down the number of its counters across Malaysia, but also mobilising more of its officers for other functions, particularly enforcement and advocacy.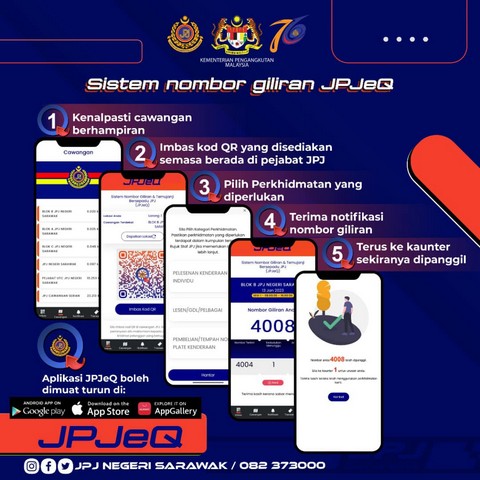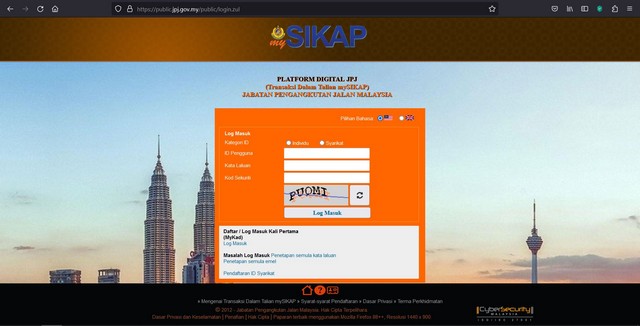 Apart from road tax and driving licence, the department has digitalised the process of purchasing vehicle numbers and managing queue numbers for customers to conduct their business at JPJ counters; the result of which are the JPJeBid system and the JPJeQ mobile application.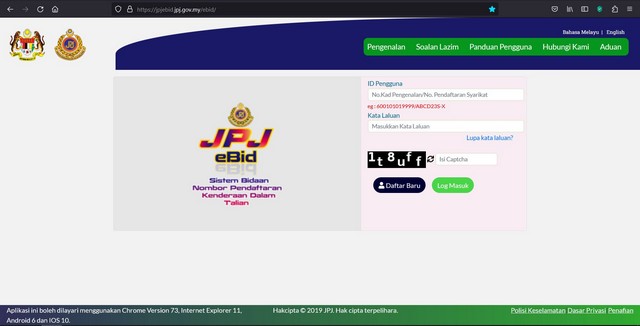 It has also provided self-service kiosks for customers to utilise its basic services without the need to go to its counters, whether to check their information related to the department, pay summonses or print vehicle ownership certificates (VOC).
According to its Sarawak office, at the time of its interview with RAKAN Sarawak at the end of 2022, there are 20 of these machines in 10 locations across the State.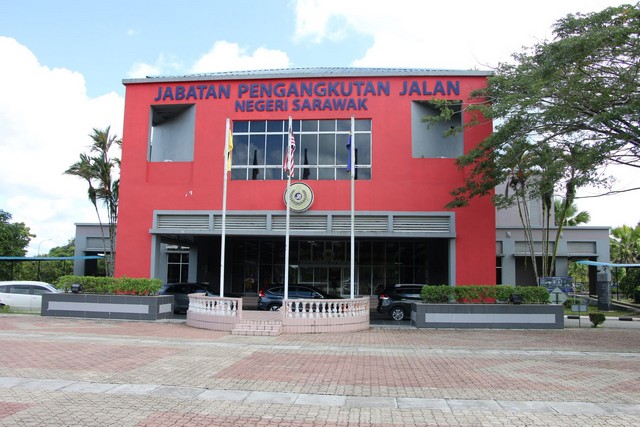 Boosting Service Accessibility for the Public
With the increasing number of digital services and applications created for road users and the department staff to utilise, JPJ Sarawak deputy director Erick Jusiang states that JPJ Malaysia's digitalisation efforts represent its transformation from manual to digital government service delivery.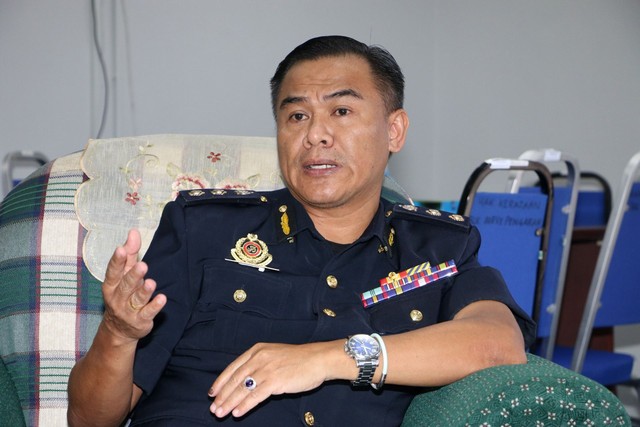 These are reflected in themes of the department's 75th (2021) and 76th (2022) anniversaries of its establishment – "Digitalisasi Melestari Integriti" and "Digitalisasi Kebitaraan JPJ".
However, in a state like Sarawak that has yet to achieve 100 per cent Internet connectivity due to its vast and challenging topography, mobile applications and online services might not be enough to ensure that its services can reach everyone.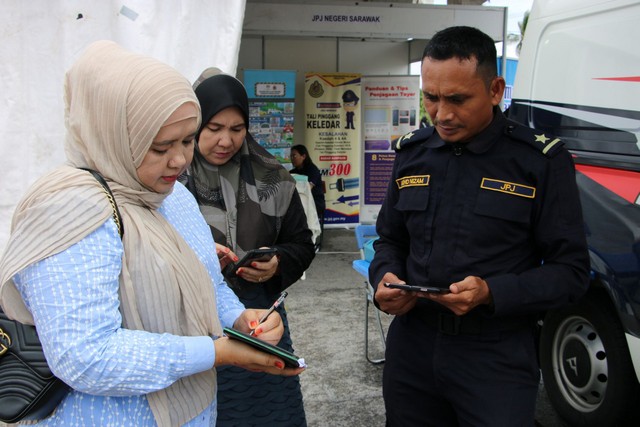 The need to enhance its accessibility to the people is not only to deliver services solely, but also to shift its overall public perception that goes beyond road taxes, driving licences and traffic summonses.
"If before, we saw JPJ as an enforcement agency, now it also does advocacy. We also educate the public about aspects of road safety and traffic rules. We need to first give advice and consultation to the public so that they understand," adds Encik Erick.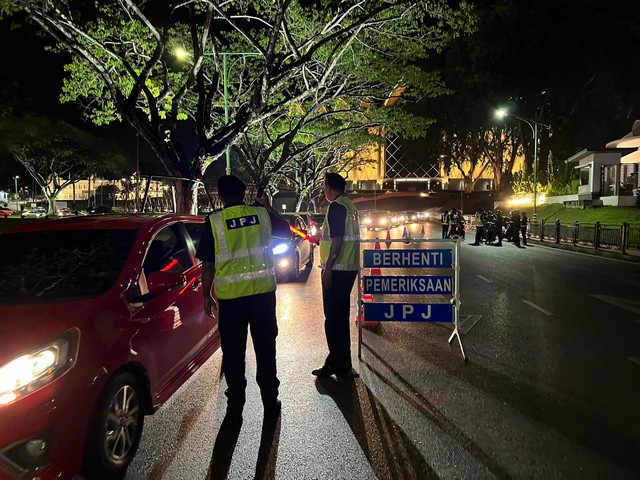 Hence why physical premises or assets remain relevant in the department's operations. Aside from the State headquarters at Kompleks JPJ Negeri Sarawak in Kuching, there are 12 branches located in every division of Sarawak that provide counter services to the public.
Basic services such as renewals of road tax and driving licence are also available at post offices and Urban Transformation Centres (UTC) in Kuching, Sibu, and Miri.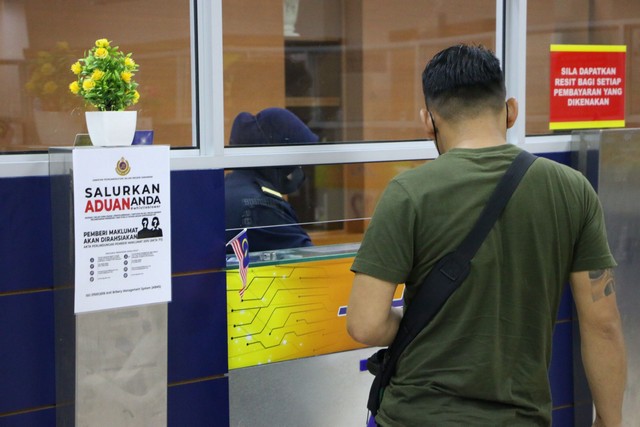 As of 2021, road users can renew their road tax with PUSPAKOM at any of its branches. In Sarawak, they are in Kuching, Sri Aman, Sarikei, Sibu, Bintulu, and Miri.
The service is applicable to private vehicles (except for e-hailing), motorcycles and decontrolled commercial vehicles with permissible laden weight of 7,500kg and below (except for vehicles with permit, i.e. school bus, taxi, etc.).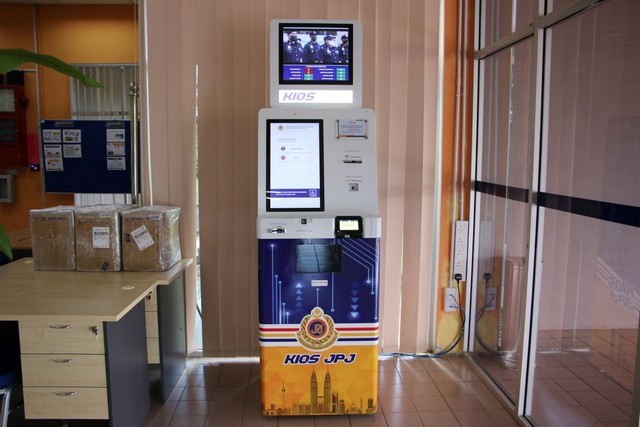 To bring its services to rural areas, JPJ Sarawak makes full use of its mobile vans, which are presently available in the Kuching and Miri branches. The department is expecting more units from JPJ Malaysia in 2023.
These vans are regularly mobilised either for its own outreach programmes or as part of collaborative activities with other government agencies and departments.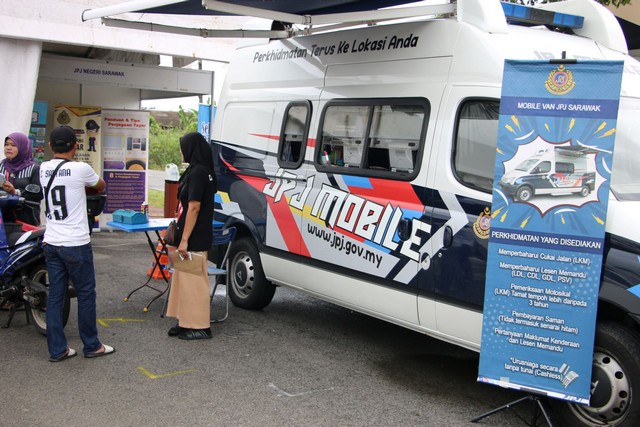 References:
Berita RTM. (2022, March 23). 23 MAC 2022 SPM – SAMBUTAN JPJ KE-76 "DIGITALISASI KEBITARAAN JPJ" [Video]. YouTube. https://www.youtube.com/watch?v=PgKH1fwHInI
Herman, H. (2021, April 1). JPJ sambut ulang tahun ke-75, Digitalisasi Melestari Integriti. UtusanTV. https://utusantv.com/2021/04/01/jpj-sambut-ulang-tahun-ke-75-digitalisasi-melestari-integriti/
Lagatah, T. (2023, February 13). RM9 million savings via JPJ digitisation. Daily Express. https://www.dailyexpress.com.my/news/207495/rm9-million-savings-via-jpj-digitisation/
Lee: Digitisation of JPJ services reflects today's digital way of life. (2023, February 10). The Borneo Post. https://www.theborneopost.com/2023/02/10/lee-digitisation-of-jpj-services-reflects-todays-digital-way-of-life/
Loke: Digital display option for road tax, driving licence from Feb 10. (2023, February 10). The Edge Markets. https://www.theedgemarkets.com/node/654732
Mohd, F. A. (2022, October 5). Kiosk Layan Diri JPJ – perbaharui cukai jalan, lesen, cetak VOC, bayar saman tanpa perlu ke kaunter. Paul Tan's Automotive News. https://paultan.org/2022/10/04/kiosk-layan-diri-jpj-perbaharui-cukai-jalan-lesen-cetak-voc-bayar-saman-tanpa-perlu-ke-kaunter/
Portal Rasmi JPJ – JPJ Portal – Jabatan Pengangkutan Jalan. (n.d.). https://www.jpj.gov.my/
Samadi, A. (2021, August 31). 'Boleh perbaharui LKM di PUSPAKOM bermula esok'. Berita Harian. https://www.bharian.com.my/berita/nasional/2021/08/858265/boleh-perbaharui-lkm-di-puspakom-bermula-esok